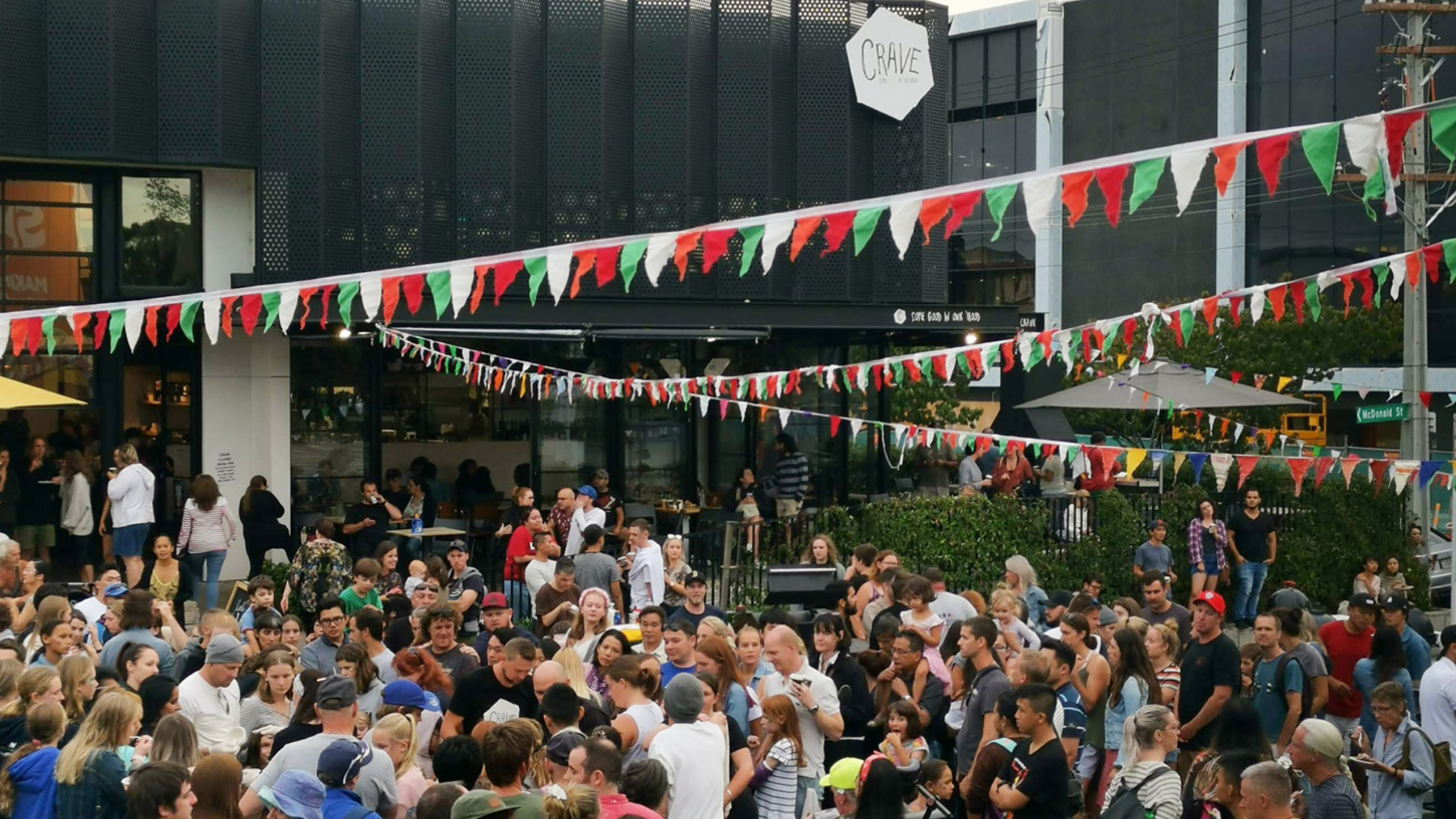 Some years ago a small bunch of suburban Christians surveyed their neighbourhood to find out what locals felt was missing. The answer? A sense of belonging. In response, that group created a café to provide a space where locals could connect. Crave café has since grown through several stages and recently won 'Outstanding Café' in the 2019 Lewisham Awards. Blue Bradley tells us about one of Crave's initiatives: a biannual street party.
I'm a hunter. One day while I was driving back from the Bay of Plenty with a wild boar in the back of my car, I had the crazy idea that maybe we could feed our community with this pig.
Mosaic, our faith community, had not long moved into Morningside, a semi-industrial suburb on the fringe of Auckland city. There was no real community feeling or sense of belonging in our 'hood. We wanted to take risks, to try out ideas that we didn't think could really work to see if they just might... and decided to throw a street party to try to bring us together.
A Kiwi parable
The idea was pretty simple: put the pig on a spit, roll it out onto the roadside, put a couple of orange cones out to make it legit, and stand there cooking it for seven hours. If anyone walked past during the day, they must be from our 'hood so we invited them over for dinner at 6pm. They laughed at us, avoided us, and even swore at us.
Well, 6pm came and went and... no one showed. Ha, shame! We laughed with—but mostly at—each other and reminded ourselves that 'we knit our parachute on the way down'. To us this meant taking risks with no sure outcomes, the result being we were looking at eating a lot of pork by ourselves!
A mere 15 minutes later, a small group had appeared. Before long, more than 80 people were crowded around and eating together at our party that night. The relief!
We talked about life, love, belonging and the neighbourhood. Some talked about how it used to be and others how it yet could be. Hopes and dreams were shared through tears from people who had never felt love given and shared like that. That night the community we had dreamed of belonging to was birthed right there in front of us. I felt like I was caught up in some Kiwi parable: "A man caught a pig and cooked it on the side of the road, and invited his neighbours to dinner."
Crave street parties
The following year we hosted another street party; more than 200 attended. The next year 400-plus came and ate pizza and danced in the rain. Things took off from there as we gathered momentum. Neighbours would always ask, "What's happening this time? What are we cooking? What needs to be done? Where can I help?"
We always put just enough organisation into the party that it might fall over if it was left entirely up to us, yet somehow on the day everybody chips in and helps to make it work. There are usually bands, bouncy castles, endless queues for the milkshakes and drinks. We have cooked epic paellas, wood-fired pizza, and a range of meats from spit roasts and smokers, to name a few.
The great thing about it is that everyone is welcome: the 'down and out', 'the 'doing well', young and old alike. Our 'hood is an eclectic mix of folk that is hard to define by one demographic. All they have to bring is themselves, and everything is free and gladly given.
We want to create a space in which it is safe to be known. Crave café hosts our street parties but in a real sense it belongs to our 'hood (just like your church does), to the people who sit in the café every day or who work or live around here. We're not bringing something into the 'hood with some weird evangelist strategy; we want to be part of creating a neighbourhood that we too want to live in.
We host two street parties a year attracting 800 to 1,000 people each time. At a rough count, we reckon we have cooked, served and given away around 13,000 meals since our first street party in March 2010.
Not a bad result for a wild and random idea.
Story: Blue Bradley
Blue is the director of Northern Easter Camp—he is as passionate about young people as he is about all things outdoors. Blue has a knack for storytelling and connecting people, and likes to think he also has a knack for fishing. He literally wants to change the world and believes the next generation are fully equipped to do it. Blue lives with his wife Katey, kids Aengus, Torin and Ciara, and dog Jed. He co-pastors Mosaic Morningside and is all about making the neighbourhood a better place to live and work.