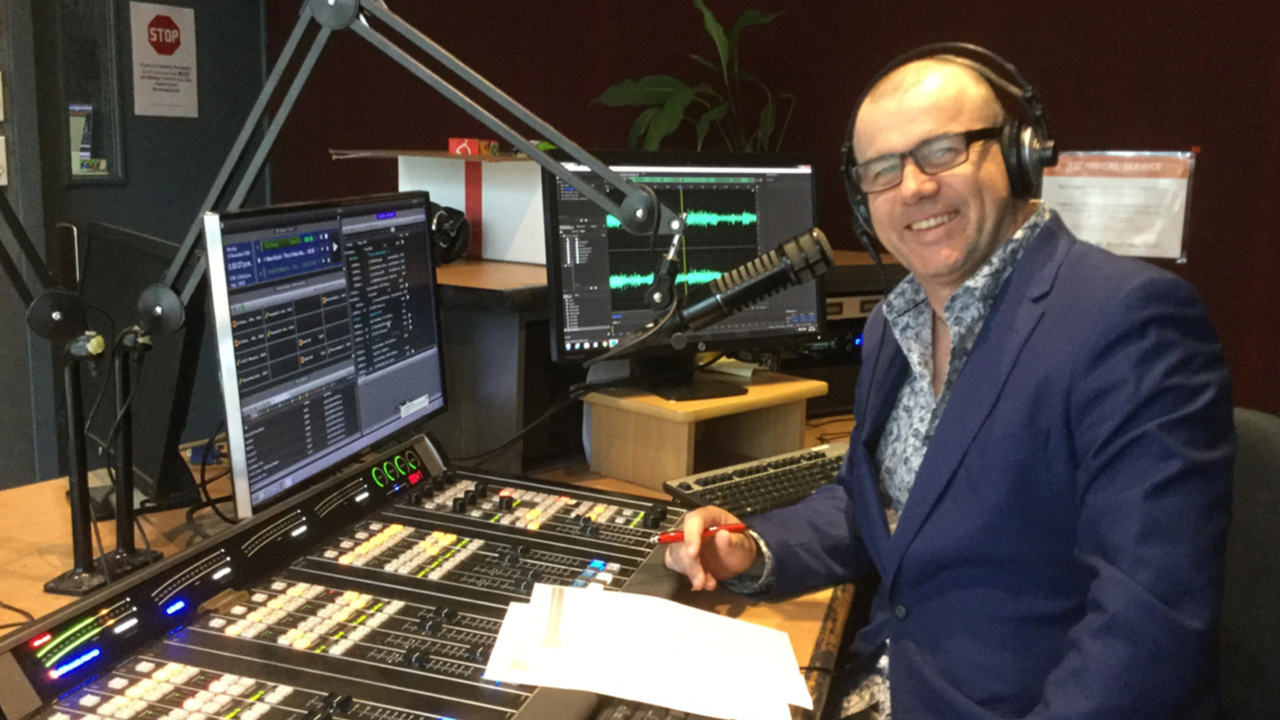 Andrew Urquhart and his wife Johanna attend Mu0101ngere Bridge Baptist Church. Andrew is an announcer at Rhema Media, where he co-hosts a radio interview show and presents Shine TV interviews and features. He was involved in the Kiwi Audio Bible project. This is his story.
Tell us about the Kiwi Audio Bible project you recently completed
Rhema Media partnered with Bible Society New Zealand to produce the Kiwi Audio Bible. It is the only Kiwi-voiced audio Bible currently available in New Zealand... and it is my voice. The project took five years, with me recording weekly slots of four hours each.
Thatu2019s a mammoth commitment on your part. What kept you going?
It was a real privilege to be involved, and it regularly gave back much more than it took. There was blessing and treasure to be found in every book. What also helped was that we recorded the New Testament first. By the time we got to some of the weightier, more challenging sections, it was too late to turn back!
One aspect I found rewarding was reading aloud. Much of the Scripture is from an oral tradition and is meant to be spoken out loud in community. I was always looking for the meaning and the emphasis of each passage, trying to find the right tone or voice.
I also enjoyed reading from the New Living Translation, as this was a version I wasnu2019t as familiar with. It forced my brain to retranslate it, particularly with familiar passages, and to find different ways of viewing it.
Did you feel Godu2019s hand on this project in a special way?
There were many answers to prayer throughout the project, though most of those are easier to see looking back. At times it did feel that there was a lot of personal, or even spiritual, pressure on all of those involved in the project. We often seemed to face more than an average share of obstacles and distractions. In all of that, God showed his faithfulness, and we felt a sense of purpose that encouraged us in the challenging times.
One of the most dramatic incidents was a system-wide computer crash, where all audio was lost or corrupted across the Rhema Network. Our audio engineer had the foresight to keep backup copies off-site on a separate system, which meant that we didnu2019t lose months of work.
What do you think is the benefit of an audio Bible?
This was a wonderful project to be involved with and I have been encouraged by how popular the Kiwi Audio Bible has become. Itu2019s a great way for busy people to get more Bible in their lives, redeeming their commute or exercise sessions, by listening to Godu2019s Word at the same time.
Regular Bible reading is transformational. I would encourage anyone to do it, out loud if you can. If you feel that you havenu2019t got time, just get your own Kiwi Audio Bible and Iu2019ll read it for you.
Is there a new project on your horizon?
For my next challenge Iu2019m planning to re-read the Bible in the original Greek and Hebrew, and then perhaps in Vulcan. Not really, I think Iu2019ll leave those projects to someone else! I remain busy with my work at Rhema Media, both in radio and TV. Iu2019m excited about how we can take the Word of God and apply it to how we live out our faith in the communities in which God has called us to serve.
Check out an audio clip of the Kiwi Audio Bible at biblesociety.org.nz.